Short History
Three Treasures refers to one's essence/ jing, energy/ qi, and spirit/ shen in Chinese medicine. 3T is dedicated to providing a space for our community to come together to further their physical, mental/ emotional and spiritual well being.
William J. Kaplanidis, L.Ac., M.S., M.A
His Early Beginnings
William was plagued with a congenital weakness and a laxity in his joints. Coupled with numerous sports injuries and accidents William was left unable to walk without the aid of knee braces, crutches, and canes. He was told by the medical profession at the age of 17, that he would never walk again without the aid of at least a cane and that he would be crippled with arthritis by the age of 40. His original ambitions to be a nuclear physicist gradually turned to psychology and the power of the mind. A trip to China in 1988 would open his mind to other more optimistic options and prognoses.
While in China he received acupuncture treatments for his knees and received private tutoring on how to "needle" himself for his condition. After returning to the U.S. he was introduced to Dr. Pan, a doctor of Chinese medicine, just upstairs in the Buddhist Temple where he was studying T'ai Chi Ch'uan.
After eight months of regular treatments supplemented with his T'ai Chi and Qi Gong studies William was able to walk independently for the first time in seven years. This "miracle" inspired him to deepen his studies in Chinese medicine and T'ai Chi and eventually led to his current combined practice of Traditional Chinese medicine with counseling and hypnotherapy.
His Philosophy
William's entire career has been dedicated to deepening his understanding of the relationship between body, mind and spirit and helping people make positive changes in their lives. His personal philosophy resonates closely to Daoist and Buddhist philosophies of self cultivation and living in harmony in this world.
The daoist philosophy of the T'ai Chi illustrates that there will always be both negative (yin) and positive (yang) in all aspects of life. Despite our inherited weaknesses, early conditioning and traumas, as adults, we have a choice. We have a choice to focus on the positive or negative.
Through self awareness and by taking responsibility for ourselves we can not only find meaning in our lives but our individual path to self transformation and happiness.
Starting with ourselves, we can live by example and hopefully inspire others, in turn, helping the whole one part at a time. It is William's mission to help people find their own individual path of self improvement by discovering their strengths and obstacles and how to live life to the fullest.
His Training and Educational Background
He has a B.A. in Psychology from Binghamton University, an M.A. in Rehabilitation Counseling from New York University and an M.S. in Traditional Oriental Medicine from the Pacific College of Oriental Medicine. In addition he has had extensive training and experience in hypnotherapy, meditation, qigong, t'ai chi and the Sandlin technique.
As a licensed Acupuncturist, William has combined his training in the above mentioned disciplines to provide relief and often profound healing to those suffering from various physical and emotional imbalances. Besides helping the body heal itself at an accelerated rate, these methods are excellent
for stress management and deep relaxation and may prevent the onset of serious disorders.
William has also traveled and studied abroad in China, India, Nepal and Tibet to enhance his knowledge and experience.
His Teaching and Lecturing Experience
William has been teaching and lecturing since 1984.
City Agencies and Private Industry
Louise Wise Services - founded in 1916, provides foster care, adoption and other child welfare services in New York City, Colgate Palmolive, Social Security Administration and Eastern Lobby Shops - Regional Managers Training
College and Universities
State University of New York - Buffalo, Fordham University, Rutgers University - School of Nursing and most recently, Pacific College of Oriental Medicine and New York University's Bioethics Forum
Health Care
Beth Israel Medical Center, Metropolitan Hospital Center, St. Vincent's Hospital, Institute for Urban Family Health and Binghamton Psychiatric Center.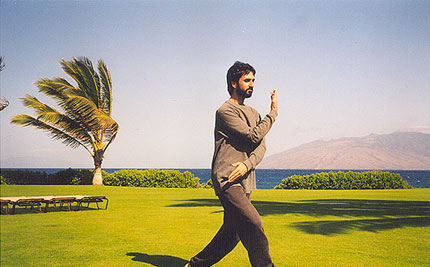 His Publications and Media Appearances
The Medical Interview as a Psychotherapeutic Process in Chinese Medicine. American Journal of Traditional Chinese Medicine Volume 3, No. 1, 2002.
Healthology.com Web Cast Article: "Acupuncture… Can Needles Heal?" and interviews on Acupuncture and Tai Chi.
Contributing author of The Whole Mind: The Definitive Guide to Complimentary Treatments for Mind, Mood and Emotion — a book about alternative approaches to mental health.
Television- FXMD (Fox Cable) Segment on Qigong; consulted for Today Show
Radio - Cosmos FM 91.5 - "Eye on the Community" Interview: go to www.GAEPIS.ORG Program Archives Friday January 30th approx. 7:15pm

© 2004 Three Treasures Inc.